How To Marry Someone You Met Online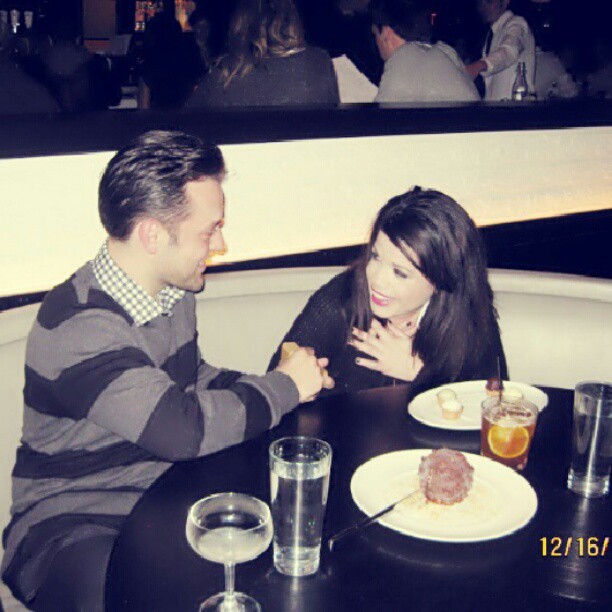 After three years and counting of writing about, tweeting about and thinking about all things online dating, the inevitable has happened. On Saturday, I will be marrying someone I met through online dating. Although I've never called him out by name to protect the guilty, he has definitely inspired many of the posts I've written on this blog. Remember the best first date ever? Or the guy who wouldn't ever call back? Yep, both him. It wasn't always smooth sailing, but I'm so glad that I took the plunge and joined an online dating site, because I met the man of my dreams.
As our wedding plans have gotten underway, we've been asked time and time again, "How did you guys meet?" I have to fight the urge to roll my eyes and say "Online, DUH!" I mean, who meets people at bars anymore?! I do everything online, it only makes sense that my love life got a jump start digitally as well. If it worked for me, it can work for you. I'm no longer someone who is just writing about, tweeting about or thinking about online dating, I'm someone who has done it successfully, and you can too. Here is how to marry someone you met online.
1. HAVE FUN.
I'm not going to sugar coat it-online dating sucks sometimes. You'll get stood up, rejected, go on bad dates and come home convinced you're wasting your time. You're not. Take the pressure off of yourself and have fun. Don't be afraid to laugh at yourself, and at your dates. If someone you are interested in doesn't write you back, it's not a reason to tear down your online dating profile and cry, it's an opportunity to reach out to someone else. Keep going! Think of every first date you go on as the chance to add another great person into your life or network in some capacity or another, sure not all of them will be epic love stories, but who couldn't use more friends? I've got tons of guy friends from my days online dating and I treasure each and every one of them.
2. Keep the human connection alive.
It's easy to go from emailing someone online to gchat, to Facebook and texting, before you realize that you've never even heard their voice. Before you get too involved with someone digitally, talk to them…like actually talk. I can remember the first time my now fiance' called me on the phone (WELL. He was calling to cancel a date, but details, details…)…the conversation was short and a bit awkward, but just hearing his voice and his laughter made me feel something that ten text messages never would.
3. Don't put all your eggs in one basket.
I know, I know, I've mentioned our first date was the best.first.date.ever. What I neglected to share with you is that it ended pretty quickly, and before I knew it, I was back home before sundown looking cute as hell and bored. So, I did what any other online dating blogger would do! I hoped online and made plans to meet another guy for a drink. Why? Because I could! Because I wanted to. Because no matter how great a first date is, there is no reason to hold yourself back from the possibility of meeting someone else who is fun to be around. One date, no matter how wonderful, doesn't mean you're in an exclusive relationship and there is no reason to limit yourself until you're sure it's really worth it.
4. Fight for what you want, but don't let it bring you down.
So when you are sure it's worth it, don't give up. My fiance' put me through a lot at the beginning of our relationship. He would cancel plans at the last minute, end dates abruptly, and not call me back for WEEKS at a time. Yes. Weeks. Initially, I was really sad and bummed out all the time, confused about why this seemingly perfect for me guy would pull me close only to push me away. But then I got tired of being sad and bummed and decided to let him go. I stopped being available whenever he called and I started dating other men I was genuinely interested in. I let my now fiance' know that I cared about him, but I cared about myself more.
5. It all comes down to friendship.
When you meet someone at a club or bar, or in line at the grocery store, you're immediately physically attracted to them or not-and that is what determines if you'll talk to them or not, right? Online dating is different. While most of us admit that photos are the most important thing in someone's profile, you'll never know if you're physically attracted until you meet in person and that could take days, weeks or even months (I don't recommend this!) Online dating gives you the opportunity to bond and connect with someone over hobbies, interests, dreams and goals. Take advantage of this. Look for people who offer more than just a super hot profile photo. If a profile makes you laugh out loud, you better send an email! Be open to dating all sorts of people, and trust your gut. If someone is piques your interest for whatever reason, go for it. And, as I've said for years…don't be afraid to let online dating surprise you.
It got me every time.