21 Signs Online Dating Has Taken Over Your Life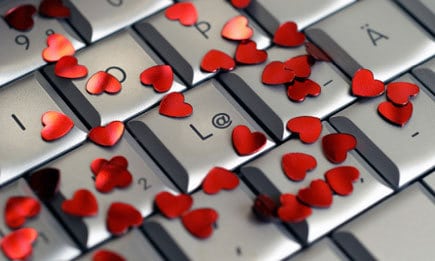 There is a difference between using online dating as a tool to find love (or just score a hot date for Friday) and letting online dating completely consume your every thought. As someone who is totally guilty of allowing my online dating inbox to run the show in the past, I can spot an online dating addict a mile away. Here are the 21 signs that online dating has taken over your life.
1. You keep breaking plans with your friends to stay home and have "skype dates" with potential matches.
2. In the hobbies and interests section of your online dating profile you write…online dating.
3. You have a separate email, Facebook and/or Twitter account for your online dating interactions. Bonus points if you have an alias.
4. You are logged into multiples online dating sites 24/7, just in case someone wants to chat. You also get notifications when new members in your area join-and email them immediately.
5. You respond to every message you get, even if it is ridiculous or offensive. Maybe they just don't express themselves well in the written word.
6. In every conversation you have, you use the phrase "someone I met online." Ex: "Oh yeah, I haven't seen Breaking Bad but someone I met online was telling me that I need to check it out!"
7. You no longer get nervous, excited or hopeful before a first date. What's the point.
8. You.are.exhausted and often want to catapult your phone out the window…but you don't.
9. You update your "About Me" section every day. And add a new photo while you're at it.
10.Sometimes you can't keep track of all the people you are emailing and texting with, so you don't bother trying.
11. You have phone sex with someone you've never met. Every week.
12. While on a first online date, you go in the bathroom to respond to messages from other people…and send them a quick selfie since you look so good.
13. You tell the same witty jokes and stories over and over again and send the same flirty texts. You're a dating robot, basically.
14. You've developed intense feelings for someone you haven't met in person yet-but you've totally Facetimed, so that's basically the same thing.
15. You are a pro at Facebook and Instagram stalking potential dates, and often know who their exes are and what they had for breakfast.
16. A typical Saturday for you looks like this: Brunch date, drinks date, dinner date….with 3 different people. Repeat on Sunday.
17. You call yourself an "online dating expert" or tell yourself that you're "obsessed with human behavior".
18. You go into panic mode if your wifi is down. I mean, people are waiting to hear back from you!
19. You send a daily email to your best friend with information about where you'll be on a date just in case and she rarely bothers to respond.
20. You honestly can't remember the last time you went on a date with someone you didn't meet online. When your sister offers to introduce you to her hot coworker, you laugh in her face.
21. You've received enough scandalous photos to start your own adults only website…and you've sent just as many.
Is online dating taking over your life?
Image via weheartit