4 Things That Don't Matter In a Relationship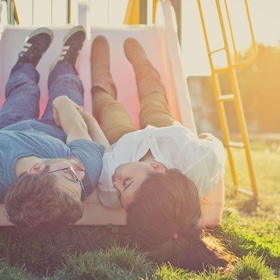 I'm getting married in a month (WHAT), to someone I met online (OBVIOUSLY) and this whole thing has really got me thinking about relationships…even more than I already do, which is clearly a lot. Prior to meeting the guy who I'm now engaged to, I was consumed with dating and men. I spent a lot of time in and out of relationships, thriving on the drama of it all and wondering when, if ever, I'd meet a guy I could actually love-and who would love me right back. Having met said guy, looking back I can see how much time I wasted not just dating the wrong types of guys, but also paying attention to the wrong things. So many things that used to bother me or turn me on just don't matter in the long-run. Here are my top 4 things that just don't matter in a relationship.
1. Exes.
When I first started dating a guy, I would find myself fixated on their ex-girlfriends, wondering how I'd stack up and wondering what went wrong in their relationship. This weird little obsession did me no good; in fact, it hurt my new relationship right from the start. If the guy you're dating isn't thinking about his ex, why on earth should you think about her? Spending time looking up my new guy's ex on FB did nothing but reveal how grossly insecure I was, which is not attractive at all. We all have an ex or ten. We all have a history. But unless the person you're dating seems hung up on their ex (and that's a whole other blog post), their past relationships shouldn't matter to you at all.
2. Extravagant First Dates
I have been on some awesome dates. From boat rides to NBA games, some of the most exciting things I've done in my life have been on dates. However, the dates that stick out in my mind-and remain in my heart-are the ones where it simply didn't matter what my date and I were doing because we were having so much fun just being together. If you go out for coffee with a girl and the conversation is amazing, she makes you laugh and you leave wondering how soon you can see her again, isn't that better than going to the playoffs with a girl who you can't talk to or don't feel a connection with? What you do on a date doesn't really matter. It's who you're with and what you make of where you are that will make or break you as a couple. Of course, this doesn't mean that you shouldn't put in any effort when going on a date. Choose a date idea wisely, but remember that the best date idea is only half the battle.
3. Looks.
Ok, ok, yes looks do matter in a relationship…just not as much as you might think. For over five years, I would consistently write the same things on my online dating profiles. Alluring things like: "I love to travel" and "I wear a lot of high heels, so I am only attracted to tall men!" Why I thought it was ok to put lines like this on my online dating profile in the first place I'll never know. My attraction to tall men trumped my manners, apparently. Luckily, one dashingly handsome and not at all tall guy decided to ignore my charming statement and emailed me anyway. Now I'm engaged to him and I'm probably going to end up wearing flats at my wedding (the horror)-and I couldn't be happier. The point is, don't limit yourself right away by something as trivial as height, etc…it really doesn't matter.
4. Silly Drama.
Relationships are hard and it all comes down to choosing your battles. I get super, S-U-P-E-R annoyed when my fiance' demands we listen to sports radio in the car for hours upon hours, or when he sometimes goes too far with his playful teasing (especially during certain times of the month), but in the long-run these won't make or break our relationship. Of course, I'm sure my incessant complaining and tendency to run half an hour late don't fill his heart with glee, but he accepts me, bad habits and all. This doesn't mean that there won't be times where you fight or don't see eye to eye, but it's important to make sure that you choose to argue about things that actually matter…not radio stations.
What is something that doesn't matter to you when you're dating someone?