September 6th, 2013 by Josie
40 Days of Dating: Love as a Social Experiment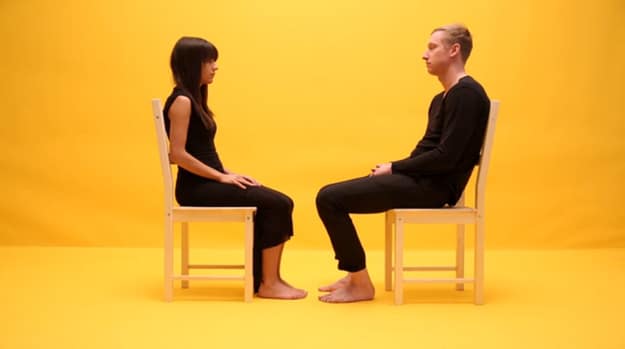 A few days ago, I stumbled across Forty Days of Dating, a social experiment that offers a fascinating insight into love, friendship and everything in-between.
Finding themselves both single at the same time, New York based friends Jessica Walsh and Timothy Goodman decide to give dating each other a try for 40 days, documenting their whole relationship experience online. When the only relationship you've ever known on this level of intimacy is your own, it's fascinating to get to see how someone else does it.
The pair, who had been friends for a couple of years before the experiment, both struggled with the New York dating scene and were looking for a way out – was it right in front of them all along? Can boys and girls ever really just be friends? Their blog attempts to find out.
Before the 40 days began, they set themselves a few ground rules: they must see each other every day, have three dates a week, a weekly couple's therapy session and one weekend trip away together. The rest is up to them.
At the end of each day of the experiment, both Jessica and Tim are required to fill out the same questionnaire. The questions are designed to delve into how they're feeling about each other, about themselves and about the experience itself. With the project running in March but the blog not made public until July, they can't cheat by seeing the other's answers. Are they developing feelings for each other? Are they ready to cross the boundary into having sex?
Reading 40 Days of Dating is like being privy to the diary of two beautifully creative and complex people. Throughout the blog, both dissect their past issues with love. Jessica laments over her tendency to jump into relationships too fast, while Tim admits his fear of commitment.
The chance to read two differing perspectives of the same day makes for a voyeuristic look into the inner workings of someone else's relationship. Jess often misconstrues Tim's attempts at flirting as jealousy, while he complains about her being distant at the same time that she describes being scared to show an interest. Let's face it, we've all been in a situation where we have no idea what our date is thinking – so seeing these two takes on the same situation is enlightening in more ways than one.
Getting to watch Jessica and Tim's relationship progress is what makes Forty Days of Dating such an addictive read. I won't lie; I got sucked in and read the whole blog from start to finish, one (very late) night in one (very long) sitting. Don't worry – I won't spoil it for you!